How To Make A Wooden ShoeRack
With the right plans, materials, and equipment, you can construct a Wooden Shoe Rack for Shoes, as shown here.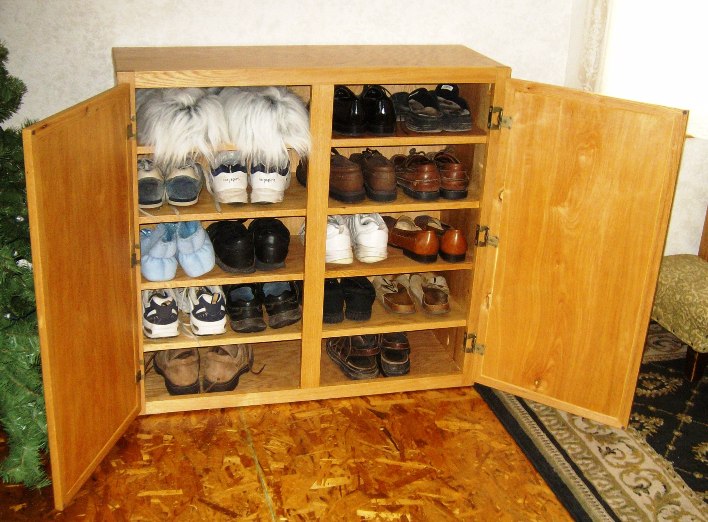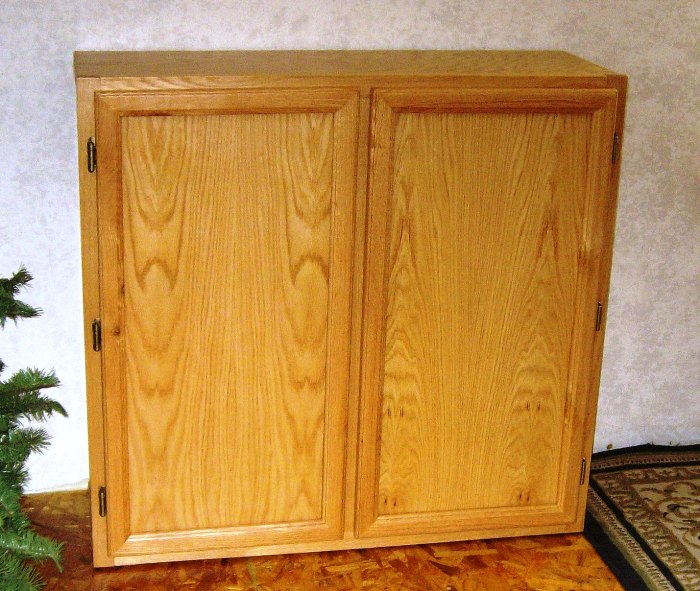 Materials:
3/4" x 4' x 8' Oak (or other hardwood) Plywood: Two Pieces for the Top/Bottom, two Side Panels, and the Shelves
3/4" x 1 1/2" x 12' Solid Oak Material: Two pieces for the Front Frame and the two, Door Panels
1/4" x 4' x 8' Oak Plywood: One piece for the Back Panel and Door Panels
Kreg Screws; 1/4 lb.
3/4" Wood Screws; 1/4 lb.
Six Hinges Hinges
Plastic Legs
Sandpaper
Wood Filler and Glue
Satin Finish Polyurethane Poly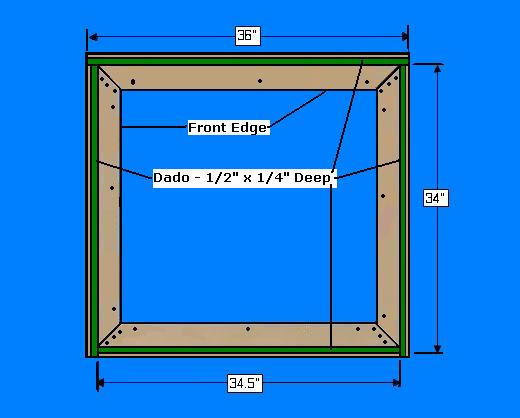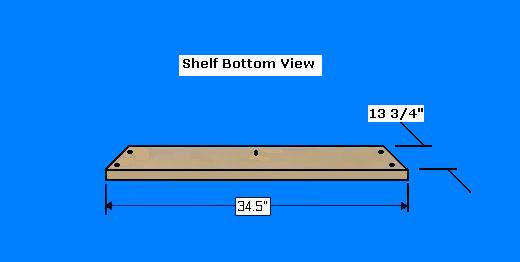 Step 1: Cut the Box and Shelf Pieces - Determine the desired size of the Shoe Rack; this rack was designed to fit in a hallway against a 3' high knee wall (no space allowed for heavy winter boots).
Select the 3/4" Plywood Panel; Rip two pieces to 14"; crosscut the Top, Bottom and two Side pieces per the dimensions listed above
Select the Top, Bottom, and two Sides; make a 1/4" x 1/2" dado cut on the interior back edges of these panels to receive the Back Panel
Select the Top, Bottom, and two Sides; drill Kreg holes on the panels as shown above to construct the box and to receive the Front Frame; Use the Kreg Pocket Hole Jig System ;
Select the 3/4" Plywood Panel; Rip two pieces to 13 3/4"; crosscut them to four Shelves @ 34.5"
Select the four Shelves; drill five Kreg holes on each of the bottom sides to connect them to the Front Frame and the Left/Right Sides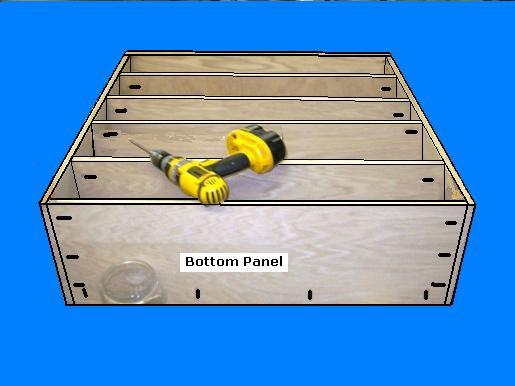 Step 2: Assemble the Box Pieces - Select the Top, Bottom, two Sides, and the four Shelves
Select the two Sides and the Top Panels; attach the Sides to the Top Panel with Kreg screws (Note: allign the Front edges)
Select four Shelves and cut two spacing blocks @ 5 3/4"; place the spacing blocks under the Top Panel along each side; using the Kreg screws, attach the first, Top Shelf (ensure the screws are on the bottom)
Select the next Shelf; using the spacing blocks and Kreg screws, attach this shelf and the remaining two Shelves
Select the Bottom Panel and Kreg it into place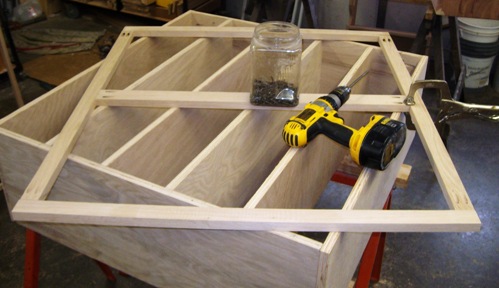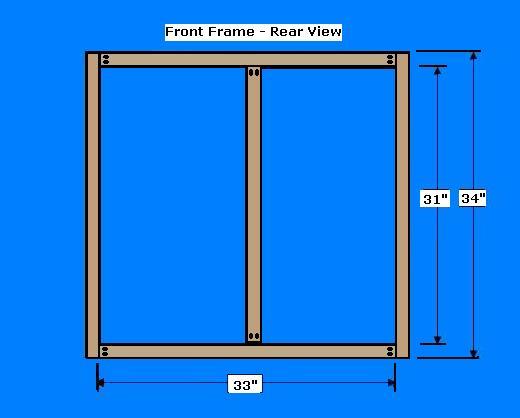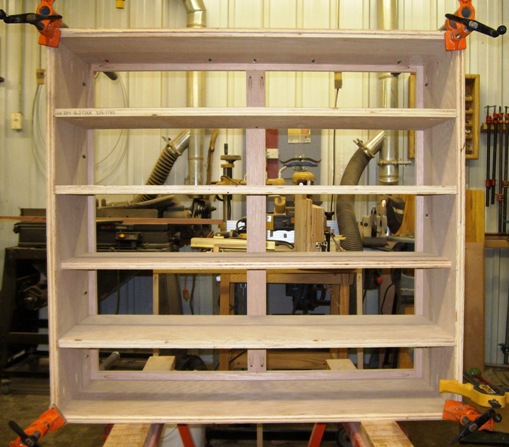 Step 3: Make and Attach the Front Frame and Back Panel - Select the 3/4" x 1 1/2" x 12' Solid Oak Material and 1/4" Plywood
Select the 3/4" x 1 1/2" x 12' Solid Oak Material, Crosscut the Front Frame pieces to the dimensions, as shown above
Using the Kreg System, connect all Frame pieces, as shown above
Select the Frame and attach it to the front of the Shoe Rack with Kreg screws in the previous drilled holes, as shown above
Select the 1/4" Plywood; measure the Back Panel space; cut the plywood to size and attach it to the back side of the rack with short screws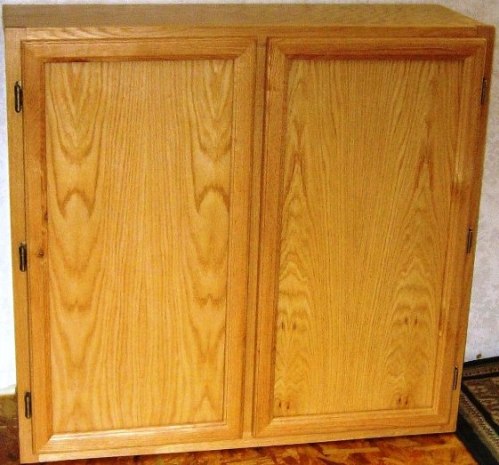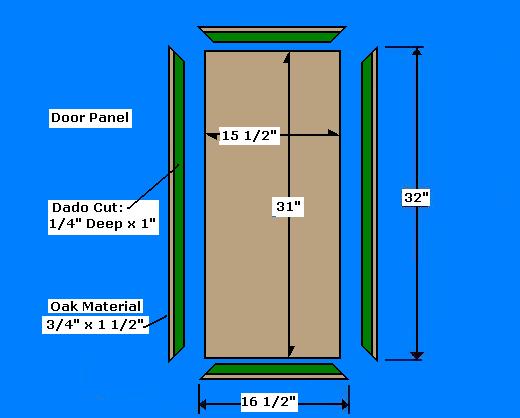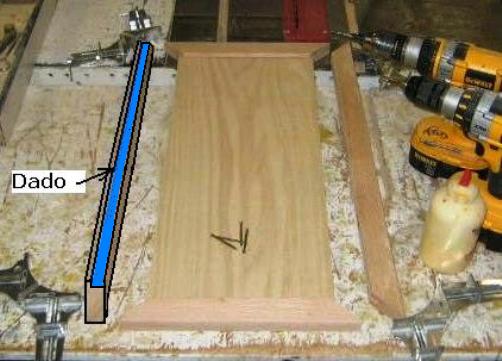 Step 4: Make and Attach the Door Panels - Select the 3/4" x 1 1/2" x 12' Solid Oak Material and 1/4" Plywood
Select the 3/4" x 1 1/2" oak; crosscut @ 45 degrees, the pieces for the two doors per the dimensions above
Set the Table Saw to rip 1/4" depth x 1"; remove 1/4" x 1" material from the rear/inside edge to receive the 1/4" Plywood Door Panel
Select the cut pieces of the Door Frames; connect the pieces using a Corner Jig, glue, and a 1 1/2" screw in each corner (pre-drill the screw holes)
Select the 1/4" Plywood; cut the two Door Panels to the dimensions listed above
Select the two Door Frames and two Plywood Panels; place a bead of glue along the perimeter of the dado of the Door Frames; set in the plywood panel; weight it down overnight to allow the glue to set
Select the six Hinges and attach them, as shown above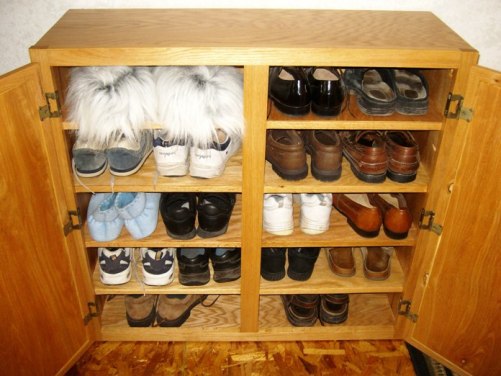 Step 5: Finish the Shoe Rack - Select the 3/4" x 1 1/2" oak material and the Finishing Materials
Select the Oak Material; cut two pieces @ 3/4" x 1/8" x 14"; glue a piece to each end of the Plywood Top Panel to finish the plywood ends
Use the same 1/8" material and glue to finish the front edges of the four shelves
Use Wood Filler for all holes
Complete all sanding
Apply a minimum of three coats of poly

Copyright 2013 - Wayne Murray

If you are a member of a non-profit organization and have any requests or suggestions regarding projects for your group, you can send Rod an email at: rodneyg@cheqnet.net